Tripawds is a user-supported community. Thank you for your support!
Well, just a few days ago, Barney came to Tampa FL! Thanks JD's Mom!
When the box arrived, Xander and Baylee couldn't get enough of all the smells!! It was so exciting, they both tried to help me open the box. As Barney was unveiled, both dogs were tail-waggin crazy to get to the purple guy! Of course as Barney is here to visit Xander first, he got to meet Barney first.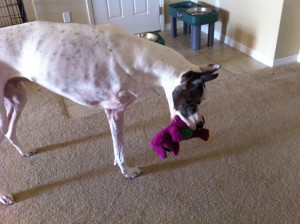 After capturing Barney, Xander insisted on laying down and giving Barney a proper sniff-down….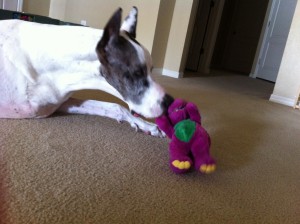 This included a lot of squishing Mr. Barney repeatedly with a giant Great Dane nose, over and over. Barney got properly drooled all over and chewed on. Once Alexander was through with checking Barney out, He decided to just chill with Barney, and don't tell anyone, but even cuddle with the dreaded dino!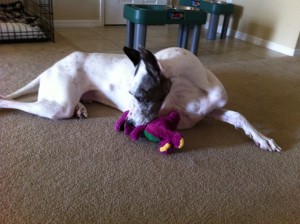 We are looking forward to a few more adventures with Barney. He definitely needs some Florida sun….
We are truly thankful that Barney has made it to visit with Alexander….Unfortunately, Alexander is slowing down rapidly. It is a small comfort knowing that this purple guy is here, bringing the spirits of all the tripawds he has encountered with him. What an amazing thing!
More to come…..